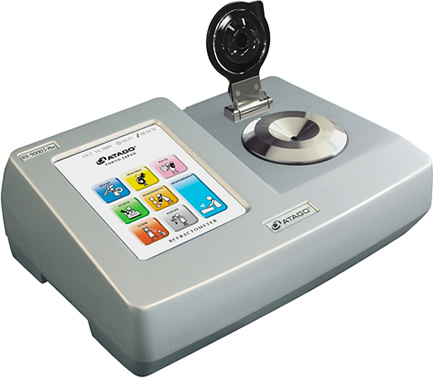 Digital Refractometers RX-i series Features
Our world-class precision instrument continues to advance.
The RX-5000α and RX-5000α-Plus are now available with touchscreen. Experience the improved functionality with intuitive touchscreen technology.
FDA 21 CFR Part 11 Software Included in Standard Delivery.
5 measurement mode options
For maximum accuracy

Displays the measurement value once the sample reaches the target temperature.
For fast results

Measures refractive index and temperature at fixed intervals and displays the estimated measurement value at the target temperature.
For no temperature control

Provides an option to turn the thermo-module off. Without temperature control, the measurement value is displayed in 4 seconds after the START key is pressed.
For emulsion samples

Displays the measurement value once a certain level of sample stability is achieved.
Recommended for Measuring Low Brix Liquid Samples (such as teas)

Equipped only on the RX-5000i-Plus, MODE-T is recommended for users who place importance on obtaining highly repeatable results (Brix0.001%).
Tried, tested, and proven features and design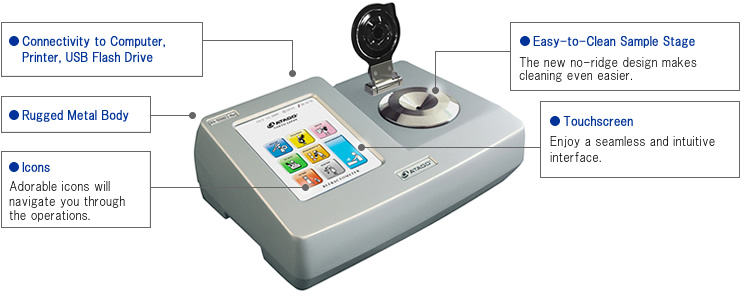 Touchscreen
Home Screen
The illustrated home screen makes it easy to identify the operation of your choice.

Measurements
All basic operations - selecting scales and modes, taking and recalling measurements, and zero-setti

ng - are at the tip of your finger.

Measurement History
Recall the last 500 measurements. Exporting data to a USB drive or a printer is only one touch away. The RX-i series is also equipped with a RS-232C port for direct computer connection.

High Security
4 levels of access control and 5 unique user passwords provide data security. The settings are user-configurable.
Editing User Scales
There is no need to re-set the scale, mode, and temperature of programmed user scales each time. With the RX-i series, entering, editing, and copying user scales is a breeze. Up to 100 scales can be programmed.

4 Measurement Modes
Select the measurement style that is most suited for the sample. Using the ten key pad, choose the measurement mode, enter the wait time, number of continuous measurements, and target temperature.

User Scales
In addition to the refractive index (nD) and Brix scales, concentration scales for specific samples can be configured easily. Simply program corresponding refractive index values and concentration data points.

Special Scales
The RX-i series comes pre-programmed with 23 of the most commonly used concentration scales.
Self Assessment
The instrument can detect irregularities with the intensity of light or waveforms. Perform this assessment regularly to ensure accurate measurements.

Manual Calibration
When measurement values differ among multiple units, manual calibration can be performed within the accuracy range to provide consistent readings across all units.

Settings Menu
Navigation through the settings menu requires no effort. The icons provide quick and easy visual identification of operation.

Theme Options
Choose from 6 different theme options for the home screen. Customize it to your taste or change it daily to fit your mood.
Digital Refractometers RX-i series Application Examples
Refractive Index
Refractive Index is a common quality standard measure for pharmaceutical or chemical products. Measurements need to be taken at a constant temperature, commonly 20°C, 25°C, and 40°C. The RX-i series are equipped with the internal Peltier Thermo-Module, and measurement starts once the target temperature is reached. Thermo-Module, and measurement starts once the target temperature is reached.
Fragrance and Food Additives

Pharmaceutical Products

Cosmetics

Petroleum and Organic Solutions
Oils and Fats

Detergents
Brix
Brix is measured for quality control purposes in the food and beverage industries.
Beverages and Fruit Juice

Jams, Honey, Liquid Sugar, Syrups

Condiments, Sauces, Soups
Concentrations
The concentrations of industrial solutions are often monitored. Examples include water-based cutting oils and cleaning solutions, hydrogen peroxide, coolants, and alcohol solutions. Although the Brix scale is commonly used, user scales can also be programmed to display converted sample values.
Chemical Solutions

Cutting Oil andQuenching Oil

Antifreeze and Coolants
Digital Refractometers RX-i series Measurement Method
Digital Refractometers RX-i series Line-up